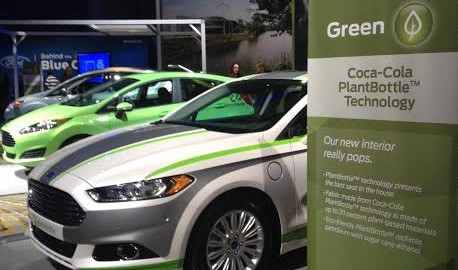 Enjoyed time in Detroit with Green Living Guy Seth Leitman at the International Auto Show. So excited to check out Ford's new sun-powered C-Max Solar Energi concept and test drive the Fusion Energi.
Always great seeing John Viera, Global Director of Sustainability at Ford. During his talk on Big Data, he discussed how by tracking and analyzing big data, engineers can work on creating further improvements in fuel economy and vehicle emission reductions.
The C-MAX Solar Energi Concept debuts as Ford caps a record year of electrified vehicle sales.
Instead of powering its battery from an electrical outlet, Ford C-MAX Solar Energi Concept harnesses the power of the sun by using a special concentrator that acts like a magnifying glass, directing intense rays to solar panels on the vehicle roof.
By using renewable power, Ford C-MAX Solar Energi Concept is estimated to reduce the annual greenhouse gas emissions a typical owner would produce by four metric tons. – via Ford.com.
More photos from Detroit:
Love this Relan Bag made of recycled materials!
https://daynareggero.com/wp-content/uploads/2014/02/ford.jpg
610
458
Dayna
https://daynareggero.com/wp-content/uploads/2014/01/dayna-reggero.png
Dayna
2014-02-08 20:59:24
2016-07-03 17:19:38
international auto show in detroit michigan