I am in love with Royal Peasantry Design House and grateful to them for sponsoring me and the Climate Listening Project. It is an honor to wear beautiful hand-crafted couture. This Friday, Royal Peasantry's Daniella Miller is hosting a Ritual Runway unique celebration of art, fashion, nature and community. Details below.
Royal Peasantry Design House lives at the intersection of ethics and inspiration, of conservation and opulence. Founded in deep love and connection to the Earth, Royal Peasantry's mission is to offer beautiful alternatives to wasteful clothing over-production. Honoring each other everything is made locally by their shop of fairly paid craftspeople. They have saved innumerable pieces of high quality upholstery and leather scraps reincarnating them as bags, holsters, and parts of clothing. We cut, dye, trim, print, and recombine to create contemporary designs that evoke a timeless and primal magic. Since 1999 they have breathed transformative life back into thousands of articles of discarded clothing.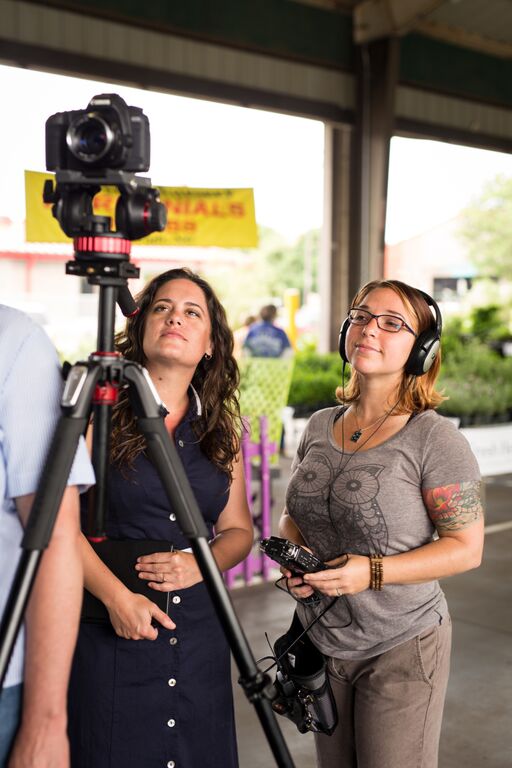 Dayna Reggero in Royal Peasantry for Climate Listening Project with Andrea Desky
From their event page on Facebook:
Friday Evening July 10th we will partake on an expected and prepared journey into the hearts of a few of creations finest artistic beings. Please join us for the ritual reclamation of source, divine and devoted to family, passion and daily ritual. Come to watch the roots display their leaves and offer to you the essence of what dedication, artistry, craft and design can offer to you. There will be seats for the hours of shows, relaxed with intermission and vending, meeting the designers when they have time.
Tickets will be sold in 3 tiers: VIP, inside floor, and outside floor. The VIP section will be endowed with our finest ritual gift offerings, intimate views ,and access to the after party, where crew celebration ensues. Inside floor seating will witness the same amazing show with models, music, film, and more. Outside seating will be sold for less, and will offer a good view and tribal elemental aspect that is absent from the production on the inside. Same fashion, same time. The cinematic art revealed during the show will be played again afterward during the dance party, to which all are invited.
Tickets available at http://www.newmountainavl.com/event/857719
Film will be provided by Brian Adam Smith and will feature live film art as well as finished works. All films will show after the runway event while our chanteuse and music for the evening Sai Ninth of 9th Phoenix will be composing both the soundtrack and the dance party when we end a bit after midnight.
This evening will encounter Asheville's best and most interesting storytellers, ritual dancers and photographers. Come to let them experience you as well. They will fill the walls and screens with their dedication to our community and their work, our passions reflection in the mirror of their magic. Micah Mackenzie will show a collection of musings of his own spontaneous liking, and other photographic collaborators expressing their own ritual of photography to be announced. Ritual Photography in the name of Transformation and creative expression will divine around us. Dance with us, freedom of the soul after the runway closes, laugh to remember the fascinating.
Designers and Hosts
Royal Peasantry Design House, Michelle Ford of Pearla Swank , River Hendricks of GhostRiver Art , Patti Byrd of Feather'Root Artistry , Erin Hoffman of Airweaver Apparel , Claire Dima , Kelsey Dare , LoveLetter Apperal by Myah Hubbell , Incendio by Justin Caristo tribute to the tribal cephalopod by ArtBlue ,Wings by Sarah Lambert of Uber Kio More Than Mammal by Danielle Miller
https://daynareggero.com/wp-content/uploads/2015/07/dayna-royal-peasantry-river.jpg
631
845
Dayna Reggero
https://daynareggero.com/wp-content/uploads/2014/01/dayna-reggero.png
Dayna Reggero
2015-07-09 11:11:08
2015-07-09 11:15:48
royal peasantry ritual runway