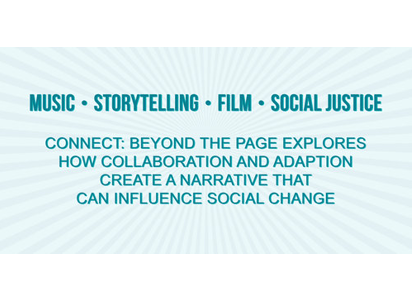 Connect: Beyond the Page: Music – Storytelling – Film – Social Justice
I'm excited to host a film screening and interactive Climate Listening Project discussion at Connect: Beyond The Page Festival on April 20 at 2pm at the Grail Movie House in Asheville, NC!
Using music (song), film (screen), and storytelling (page), Connect: Beyond The Page explores how collaboration and adaptation create a narrative that can influence social change. Using Asheville, NC as a creative hub, panels, performances, and screenings will take place in unique settings around the city. Our event brings together youthful ideology and well-worn experience to create a diverse demographic of men and women who are pioneers in their field. Attendees come to broaden their horizons and their minds.
The festival takes place Earth Day weekend. The lineup includes:
JOYCE FERDER RANKIN, TWO-TIME EMMY WINNING JOURNALIST, FILMMAKER (DEGREES° TO EXTINCTION)
INDIA OSBORNE, PRODUCER, LIFE COACH, MANAGING PARTNER BUF VFX (THOR, LIFE OF PI)
STARHAWK, ACTIVIST, TEACHER, & AUTHOR (THE FIFTH SACRED THING)
JOSEPH HUDAK, SENIOR EDITOR (ROLLING STONE MAGAZINE)
WILLIAM HORBERG, PRODUCER (COLD MOUNTAIN, THE KITE RUNNER)
ALBERT BERGER, PRODUCER (LITTLE MISS SUNSHINE, NEBRASKA)
BOB BOILEN, HOST OF NPR'S ALL SONGS CONSIDERED + AUTHOR (YOUR SONG CHANGED MY LIFE)
LORI KNIGHT, PRODUCER, EMMY AWARD-WINNING JOURNALIST
https://daynareggero.com/wp-content/uploads/2018/04/beyond-the-page-music-storytelling-film-social-justice-1.png
304
412
Dayna Reggero
https://daynareggero.com/wp-content/uploads/2014/01/dayna-reggero.png
Dayna Reggero
2018-04-13 21:01:26
2018-04-13 21:08:23
featured filmmaker – beyond the page festival