I traveled to Washington, D.C. to film and photograph People vs Fossil Fuels – SEE THE SIERRA MAGAZINE PHOTO ESSAY!
Indigenous-led protests in DC call on Biden to declare a national climate emergency
Photos by Julie Dermansky and Dayna Reggero
by SIERRA Staff: "This week, hundreds of people from across the United States converged on the White House to call on President Joe Biden to declare a national climate emergency and to use the full scope of his executive powers to halt the continued expansion of fossil fuels… On Monday—Indigenous Peoples Day—more than 130 people were arrested in front of the White House… The protests… were organized by the Build Back Fossil Free, a coalition of Indigenous, Black, environmental, and social justice organizations… "With the power of a pen, President Biden could stop these pipeline projects," Joye Braun of the Indigenous Environmental Network said in a statement. "He promised he would listen to us. He's not listening. We're coming every day of this week to tell Biden, 'Stop this madness.'"
Behind the scenes!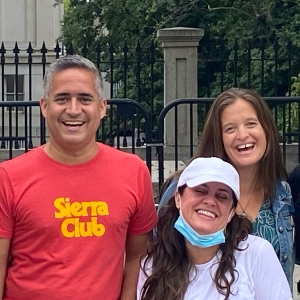 https://daynareggero.com/wp-content/uploads/2021/10/sierra-magazine-logo.png
897
1023
Dayna Reggero
https://daynareggero.com/wp-content/uploads/2014/01/dayna-reggero.png
Dayna Reggero
2021-10-26 17:05:35
2021-10-26 17:16:17
sierra magazine photo essay